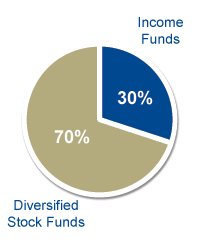 The

Non-Sector Medium Low Risk Strategy

seeks long-term growth by investing in diversified stock funds and bond funds, with a target mix of 70% stock and 30% bond. Typically it will hold 3-6 domestic stock funds, representing roughly 300-400 unique stock positions. Foreign exposure will usually range between 5-20%. The diversified stock fund choices are normally from Fidelity's retail lineup, but we may opt to hold a non-Fidelity fund if a particular stylebox is not well-served under the Fidelity umbrella. The portfolio does not try to outperform the S&P 500, but it does aim to keep significantly ahead of inflation over the long run, while keeping overall volatility below that of the S&P 500.

During bearish market conditions the portfolio may increase its weighting in bond / asset allocation funds, but such defensive measures are not expected to be routine. We believe a stable allocation generates a higher long-term return than trying to boost stock exposure during bullish periods, or reduce it during a bear market.