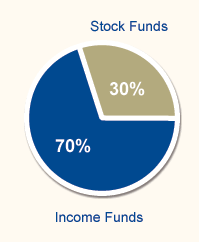 The

Income With Growth Strategy

seeks to outperform inflation in a low-volatility mix of stock and income funds. Foreign exposure (both stock and bond) will usually be less than 30% of total assets.

The income side of the portfolio focuses mainly on domestic investment-grade debt, but may include some high-yield debt (both domestic and foreign), emerging market debt, real estate debt, or inflation-protected bonds. The stock side typically maintains a balanced mix of domestic large-cap stocks, but may include some smaller stocks, foreign stocks, convertibles, real estate stocks, or commodities.

During bearish bond market conditions, the portfolio may reduce its stock exposure or place a significant portion of its bond holdings in short-term funds.