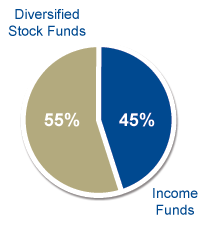 The

Non-Sector Low Risk Strategy

seeks long-term growth by investing in diversified stock funds, asset allocation funds, and income funds, with a neutral mix of 55% stock and 45% bond. Typically it will hold 3-6 domestic funds, representing several hundred unique stock positions, and more than 1,000 unique bond positions. Foreign exposure will usually range between 0-15%. The diversified stock fund choices are normally from Fidelity's retail lineup, but we may opt to hold a non-Fidelity fund if a particular stylebox is not well-served under the Fidelity umbrella. The portfolio aims to keep ahead of inflation over the long run.

During bearish conditions, the portfolio may increase its weighting in income or capital preservation funds, but such defensive measures are not expected to be routine.