Free Portfolio Review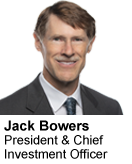 Dear Fellow Fidelity Investor,

My name is Jack Bowers, I am the President and Chief Investment Officer for Bowers Wealth Management, a private firm that manages over $125 million for individual investors using Fidelity mutual funds. I am also the founder and Editor of Fidelity Monitor & Insight, the best-performing Fidelity newsletter over the past 30 years according to www.hulbertratings.com.

If you put your hard-earned money in our hands, you will have the peace of mind of knowing that professionals are watching your investments full-time. And because our only compensation comes from a management fee based only on your assets (we earn no commissions on the investments we make for you), our interests are always the same as yours.

We are happy to offer you a free, no-obligation review of your investment portfolio.

Consider it a "test drive" to see how we think and how we would work with you to structure a portfolio that best meets your needs should you decide to become a client. Just submit the form at right and one of our Account Managers will give you a call to set up a convenient time for your review.

Or if you prefer, just call us toll-free at 888-397-3094. We'll be happy to answer any questions you might have.

Why not start enjoying peace of mind today?


Jack Bowers
President & Chief Investment Officer